Nadezhda Kozinina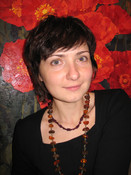 Born December 9, 1974, in Kalach, Russia. Studied at the Voronezh Art College from 1992-1997. Exhibited at the Art Exhibition of All Russian Youth from 2000-2001. The Central house of Artists at the Tretyakov Gallery. Exhibition: Women's Art Exhibition, Moscow, 1996. Member Society of Women Artists, "IRIDA". Org. Nadia has the versatility of all works of art. She currently lives and works in Voronezh, Russia.
"Iris"
Date: 2015
Size" 26" x 36"
Oil on Canvas
Signature In Cyrillic lower right
Framed
"Stephanie's Bobo Hydrangea"
Date: 2015
Oil on Canvas
Size: 24" x 30"
Signature In Cyrillic
Vase by Jan Barbogilio
Santa Fe, NM
USA
"Trinity Church Ostankino"
Oil on Canvas
Date: 2009
Size: 24" x 30"
This painting by Nadia Kozinina and Vitaly Martynenko.
Signatures in cyrillic lower left and right corners
"April"
Oil on Canvas
date: 2005
Size: 23" x 29.5"
Signature in cyrillic top right corner
Please contact our Gallery for additional
information about this artist.