Welcome to L.P. Cline Gallery
Let us introduce YOU to the beauty and value of original Russian Impressionism Art and Contemporary Russian Art.
The L.P. Cline Gallery has been a pioneer in the introduction of high-quality, original Russian Impressionism Art and Contemporary Russian Art for sale in the U.S. marketplace. We're Lynn P. and M. Dianne Cline and we serve all fifty states from our Art Gallery located in Chattanooga, Tennessee. We've been direct importers of Russian art for many years and we've had the opportunity to develop personal relationships with many of Russia's finest artists and their families.
One of the questions we're most frequently asked is, "How did you first get interested in Russian art?"
Both L.P. and I have had an appreciation and love for beautiful things since childhood. My mother was one of the most creative and talented people I have ever known. I attribute my life in the creative world of arts and design to her legacy. Lynn too started at a very early age noticing and appreciating the arts. Music was and still is a very important part of that. We were blessed with a retail business in home decoration in 1981 and continued to expand into other areas which led us to direct importing of English and French Antiques,. Our reputation in the field of Historic Preservation Design created the opportunity of being asked to join in the adventure of a life time : Direct Importing of Russian art, both Soviet era and Contemporary Russian Art.We travel every 3 months deep into Russia to bring back the best of Russian Impressionism Art and Soviet Realism Art.
The L.P.Cline Gallery is a hands-on gallery. Please come by, write to us or give us a call. We like nothing better than to share stories of our experience with the artist so that you may feel a better connection to the painting that we hope will hang in your home.
Stepping over the threshold of L. P. Cline Gallery, named for owner Lynn P. Cline, is like stepping into the home of an old friend (a friend with excellent artistic taste). The relaxing atmosphere begins at the door.
L. P. Cline is a Direct Importer of Russian Art, making it an invaluable resource for art lovers, museums and collectors. The gallery is home to an impressive collection of Russian Impressionism and Contemporary Russian Art. With the simple mission "to bring beauty into the lives of those (they) serve," the Clines carefully choose paintings that represent the best in Soviet and post-Soviet era art.
Paintings range in subject matter from landscapes and country life to military scenes and adult and child portraits. Many notable Russian artists are represented in the gallery, including Vasily K. Komolov, Paulina Komolova, Vladimir Shpakovsky, Vasily P. Krivoruchko, and Victor Minkin.
But what truly sets L. P. Cline apart from other galleries is the Clines' intricate knowledge of the stories behind the art. Approximately every three months, the Clines take a trip to Russia to visit with artists and purchase more art.
Their trips provide the gallery with beautiful pieces and equip the Clines with stories of the artists, their families and their motivation for each piece. The Clines' deepest desire is that each customer will feel a connection to the paintings by learning about the artist.
Dianne excitedly shared several stories including one about artist Zinovi Efimovich Popov (1924-1984) and another about artist Paulina Komolova (1916-). Popov had a love for painting lush, vibrant landscapes, as well as some portraits and still life. His work is represented and appreciated today in museums and private collections around the world. He once predicted that his works would live "only after" he was gone; unfortunately his predictions was correct. Although he was not able to personally see his work appreciated, his family has joyfully watched his artwork come alive for people in Russian and all over the world.
Artist Paulina Komolova is the widow of fellow artist, Vasily Kuzmich Komolov. The Clines were able to sit down with her over several days on one of their trips to Russia. Paulina shared the beautiful love story between herself and Vasily – a love tested by time and distance, other loves, war and injury. After spending the first day listening to her share personal memories, the Clines return visit the following day found Paulina wearing a purple ribbon in her hair, the ribbon of celebration that represents having made new friends. It is a special treat for the Clines to carry Paulina's work, and their colorful stories of time spent with her make purchasing one of her pieces even more rewarding for customers.
Yet another characteristic that highlights L. P. Cline Gallery is their willingness to research and/or purchase pieces based on the needs or wants of their customers. Lynn and Dianne encourage customers to make special requests for a particular artist's work or a specific type of painting. They offer their long-term and in-depth understanding of the market for Russian Impressionist artwork as a tool for customers. They are practiced in connecting with artists and families to discover the inspiration for particular pieces of art or an artist's overall style, and they will enthusiastically research a piece of artwork for customers.
L. P. Cline Gallery hosts an exquisite display of valuable Russian artwork. But it is the welcoming atmosphere and heartfelt desire of Lynn and Dianne to help people enjoy art that truly makes the gallery an unforgettable experience. For hours of operation or more information on upcoming artists, visit the Locate Gallery page.
Testimonials
"I had never considered collecting any kind of art other than etchings, lithographs or oil paintings by English painters. I was introduced to the Russian Art by Lynn and Dianne Cline at their L.P.Cline Gallery and immediately fell in love with it. I cannot imagine not walking through my home and seeing the wonderful faces and landscapes of the Russian people. This art has helped me step outside my boundaries and see the world through other eyes. Thank you, L. P.Cline Gallery!" —I.F., Great Britain
"Just a quick note to say how much we enjoyed our visit to your gallery this past week. I do not know when we have had such an enjoyable day. Your inventory of art is amazing and we enjoyed the Russian 'treats' as well. See you next trip." —John, New York, NY
"Wonderful time in your gallery. By the way, the Popov has been hung with pride in the living room." —J.P., Atlanta, GA
"I started collecting Russian art quite by accident about seven years ago when the Cline's shared with me some of the Russian Impressionism Art they had just acquired. I did not understand or appreciated what it was, I just know that I loved it and it had emotion in it that I had not found elsewhere. I have since learned a lot about the art which has created my deep appreciation and love for it as I continue to collect through Lynn and Dianne keeping me informed as to the value of what I have and new things they feel I should consider to make my collection even better. Thanks, Lynn and Dianne." —P.D., Chattanooga, TN
"Thank you for introducing my family to Russian art, we enjoy it every day. We hope this book sheds some light on the spirit of the Russian people." —David C. Atlanta, GA
In the Spotlight...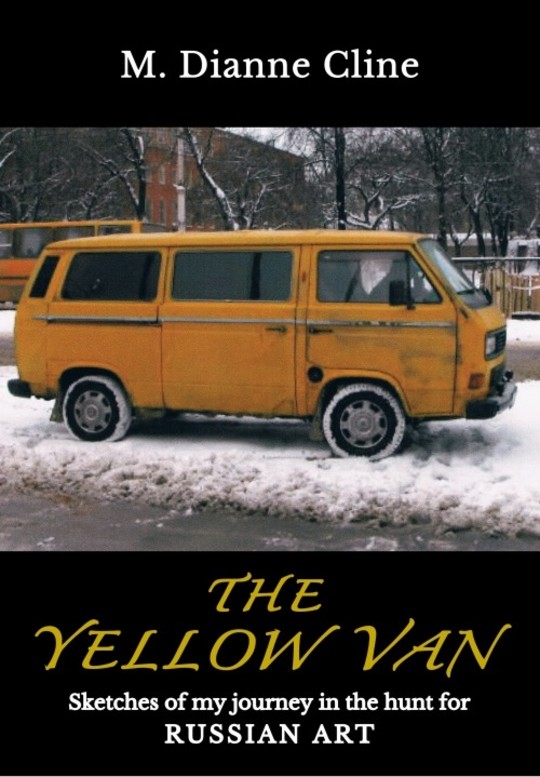 "The Yellow Van" by: M. Dianne Cline 160 pages, Black & White and Color Plates
Read More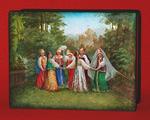 Russian Lacquer Boxes
We are pleased to be able to offer the finest in Lacquer Miniatures from the villages of Fedoskino and Palekh. We personally selected and commissioned the finest of boxes from both areas. Visit our Lacquer Boxes Gallery for more information.