The Life and Works of Yuri Vnodchenko
A Cline Publication
WOW! After three years of challenges in preparing this book about the Life and Works of Yuri Vnodchenko, Honored Artist of Voronezh, Russia, we are thrilled to finally present it to the world.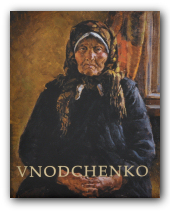 This is not only a book of beautiful paintings, but a tribute and acknowledgment to some of those who have helped us along the way.
You will find the heartfelt story of Vnodchenko's life from his days in the orphanage throughout his life as he followed his dream, knowing he had lived for a purpose when others had died. The historical text by Vladimir Dobromirov, director of the Voronezh Oblast Art Museum, I.N. Kramskoi, is inspiring.
This is the beginning of other publications planned for the Voronezh artists. Your support in purchasing this book will make those plans a reality for those who thought their work would never be known to the outside world.
"During his period of history, artist Yuri Vnodchenko, with an exceptional talent for expressing the truth of the time in which he lived, fully repaid to his country the advance of the gift released to him from above." —Just a sample of the wonderful text you can expect in this great book.